professional laundry and dry cleaning for companies
Looking for a good launderette or laundry? Come to Super Wash, the right place for cleaning all your clothing and textiles. Whether it concerns "normal" clothing or very delicate materials, in our launderette everything is thoroughly and in the correct (safe) way made completely fresh and clean again. If you don't have time to drop off your clothes, you can use our pick-up service.
WELCOME TO SUPER WASH
Whatever you need, we have it and we can. From top quality linen to washing your corporate clothing. We have been providing laundry for many companies for years. If you let us do your laundry, you will never have anything to complain about. This way your bedding will always look like new and your employees will look professional!
Working Clothes
We can wash all types of corporate clothing. Think of garage clothing or restaurant service clothing.
A LAUNDRY THAT DELIVERS TOP QUALITY:
Care settings to your liking
Super-wash is also happy to assist you for the rental of linen. We purchase the linen specially according to the color and dimensions you want, when washing we also separate the linen from other laundry. We offer Egyptian linen, because of their top quality they last a long time. For more information, please contact us so that we can tailor the products perfectly to your wishes.
Working Clothes
You can never redo a first impression. It is precisely then that professional, well-groomed work clothing makes the difference. With the service of Super-wash you show your doctor's practice, hotel or metal company what you stand for. We offer both industrial cleaning and steaming of corporate clothing. For sectors such as the automotive and metal industry, we recommend having the clothing industrially cleaned. Seriously soiled clothing such as garage clothing is no problem for us. Super-wash has a professional laundry with extensive programs and a wide range of detergents to wash every conceivable textile in a sustainable way. Super-wash ensures that your work clothing is optimally cleaned within the most sustainable standard.
Catering facilities
In the catering industry a lot of use is made of products such as table linen, tea towels, glass towels, chef's slippers, but also bed linen and bath linen. Washing, drying and ironing yourself is a time-consuming choice for many companies. That is why the preference is often for a laundry and it is common to use Super-wash. In addition to the low costs, which are partly made possible by our large washing machines, we also offer a fast and flexible collection and delivery service. With us, quality comes first and we always think along with the customer.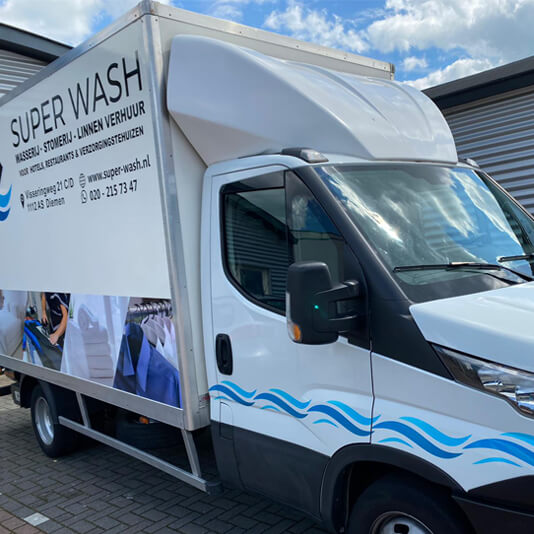 Pick-up service
We clean clothing for companies and catering establishments. A large number of regional clothing and interior shops have been using our laundry and other services to their satisfaction for years.
Want to wash your dirty laundry without hassle and hassle? And at a time when it is you
suits you best? That's very easy from now on! From Monday to Sunday,
we collect your laundry wherever and whenever you want.
Contact us at
Tel.: 020-215 73 47 , mail info@super-wash.nl of Contact Form
Say goodbye to bad smells and dirty clothes.
Are you looking for a dry cleaning or laundry service in Diemen? Then you've come to the right place; Superwash is your one stop shop for all your dry cleaning needs . Superwash is a professional on-demand garment care and finishing service for your home and business accessories. We offer the best online dry cleaning Diemen and laundry service at competitive prices.
Our professionals understand the pressures of a fast-paced, vigorous lifestyle, which is why we provide services right at your doorstep. We offer a variety of dry cleaning services, including delicate clothing cleaning and dry cleaning for bed linen, towels and tablecloths. We use environmentally friendly technology and are known as the "best dry cleaners in Diemen"
Our mission
Our ultimate goal is to reach people around the corner from Amsterdam with our good dry cleaning services . With our dry cleaning services, we're here to make your life a lot easier. We strive to be honest and fair in fulfilling our obligations, and we will continue to improve our business ethics and code of conduct and expand the best dry cleaning service in Amsterdam to provide our customers and consumers.
Join our mission and let us serve you with our excellent dry cleaning services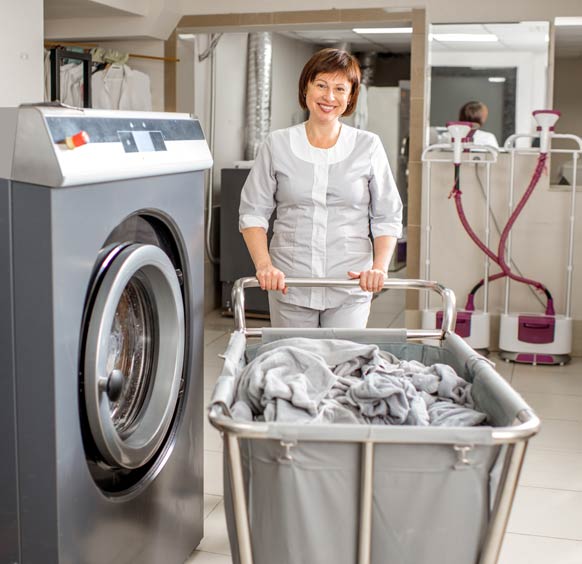 Frequently Asked Questions

020-215 73 47
For emergency

We are 6 days each
week open!

Do you need help? Then contact us by email: